Yahoo! also has its own local search platform called Yahoo Local. Yahoo has a significant share of the local search market, so they definitely should not be ignored.
Yahoo Local Free Listing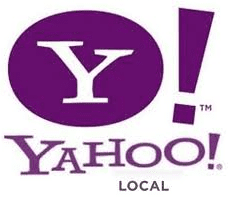 Yahoo! has two levels of listings for their local search platform. The free Yahoo Local listing is very basic and includes the company's name, URL, and a short description.
Display your contact information for free:
Phone, address, store hours and website
1 photo
Products and services
The enhanced listings also include the company's logo and tagline, photos, a longer description, links to coupons, and the addition of the company's listing in up to five categories.
Yahoo Local Enhanced Listing
At the moment, enhanced Yahoo Local listings cost just $9.95 per month. This is a very reasonable cost when you consider how much more attention your business will get if you have these added features. As a paying customer, you will receive reports that will show you how many times your listing was viewed and how many times it was clicked. This will help you refine your listing in order to maximize its effectiveness.
Get everything offered with a Basic Listing, plus:
Add a business description so it's easier for customers to find you online
Promote your business with photos and a tagline
Attract even more customers with online coupons
You can always start out with a standard listing and upgrade at a later date. This might be a good option if you just want to test Yahoo Local before you are locked into a monthly fee.